Waterford Chamber and the School of Engineering of Waterford Institute of Technology are joining forces to present Toys 4.0 Engineers
The overall context is the broad concept of 'Industry 4.0' that is driving the Technology, Innovation and Recruitment agendas of companies in all sectors of the economy.
Engineers need to develop and use new 'toys' to address the many competitive challenges – these 'toys' include Robotics, Additive Manufacturing/3D printing, Augmented Reality, Virtual Reality, Building Information Modelling, Big Data, Drones, Electric Vehicles, Green Energy, etc.
Register for the Conference
Julie Sinnamon
CEO of Enterprise Ireland
Prior to her appointment to CEO in November 2013, Julie held a number of senior public sector positions, spanning a 30-year career in Enterprise Ireland and IDA Ireland.
Julie has considerable experience in a variety of industry sectors, most notably the food sector, where she has worked directly with some of Ireland's best-known food brands, from their originating idea, right through to globally trading multi- national food businesses.
Tadhg Lucey
Director BAM Ireland
Tadhg began his career in London before joining BAM Civil in 1989. He is now a Director of BAM with responsibilities that include Safety, CSR, Marine Construction and International Works in the Middle East. Tadhg will be speaking on the Museum of the Future, which is currently under construction in Dubai.
Some of the major projects he has managed include: Waterford Port Belview; Wexford Bridge; Whiddy Oil Terminal – Single Point Mooring, Dublin Port – numerous new and refurbishment projects, N25 Waterford Bypass including River Suir Cablestay Bridge, N9/N10 Waterford to Dublin Motorway, 25,000 seater Al-Ain Stadium, UAE; Aqaba New Port; Aqaba LNG; DP World Port – Dubai.
Paddy Phelan
Manager of the 3CEA
Paddy was appointed Manager of the Carlow Kilkenny Energy Agency in September 2012. CKEA is working in partnership with local authorities in Carlow, Wexford, Galway and Kilkenny to implement energy management programme which hopes to achieve 33% reduction in energy consumption.
The organisation works with the local rural development bodies to deliver sustainable community development projects for the region and enable large energy consumers and renewable energy developers to finance and implement projects which will facilitate reaching renewable energy 2020 targets and beyond.
Cristian Olariu, PhD
Research Engineer Innovation Exchange
Cristian Olariu received his B.Eng. degree in 2008 from the Faculty of Electronics and Telecommunications which is part of Politehnica University of Timisoara, Romania, and his Ph.D. degree in 2013 from the Waterford Institute of Technology, Ireland, in VoIP over wireless and cellular networks. He is currently a research engineer with the Innovation Exchange, IBM Ireland, and previously he was a post-doctoral research fellow with University College Dublin, Ireland.
His interests are in the field of Automotive Services, IoT, Vehicular Communications, Voice over IP, QoS provisioning for Voice over IP, Wireless Networks, Software Defined Networking and Network Functions Virtualisation.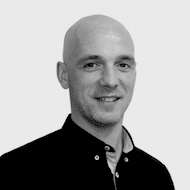 Padraig McGarry
Manufacturing Engineering Manager, Abbott Diagnostics Longford
Padraig is currently manufacturing engineering manager and has responsibility for both manufacturing and facilities engineering on site. Abbott in Longford manufactures 18 diagnostic reagent products for thyroid function, fertility, and pregnancy, cardiology, renal and metabolic. In 2016, the site received the prestigious Shingo Prize from the University of Utah and the Shingo Institute for Operational Excellence.
Padraig has previously worked in the Abbott Nutrition division where he led a number of key automation improvement projects. His key area of interest now is using collaborative robotics to aid complex manufacturing assembly, to increase throughput as volumes increase. Padraig has a broad range of technical expertise with qualifications in Industrial Automation and Aircraft Avionics as well as completing an MSc in Operations management.